TreatSmart - Stories Worth Telling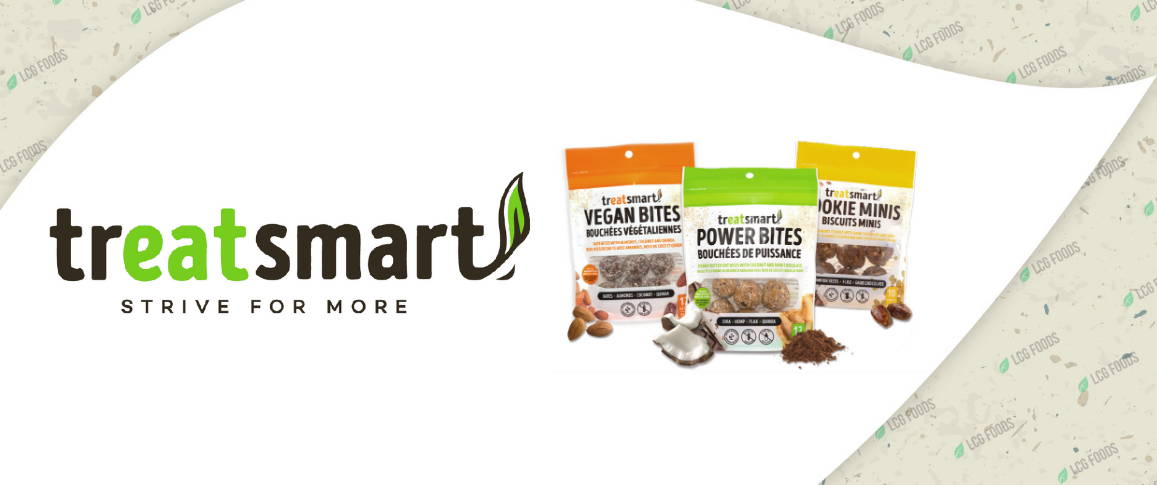 Be TreatSmart! Strive for MORE!
Tasty, gluten-free treats made of wholesome ingredients. TreatSmart's mission is to bring nutritious snacks in a convenient and delicious format to everyone in our busy world. All of their products are made with ethically sourced whole food ingredients like almonds, peanuts, and dates.

Learn more about TreatSmart and discover the advantages that offering this brand to your customers can bring to your business!
Your names: Simrit Ollek

Year the company was started: 2016
Where is your product made: Vancouver, BC

What is the 'key ingredient' that makes your product special:
Organic Nuts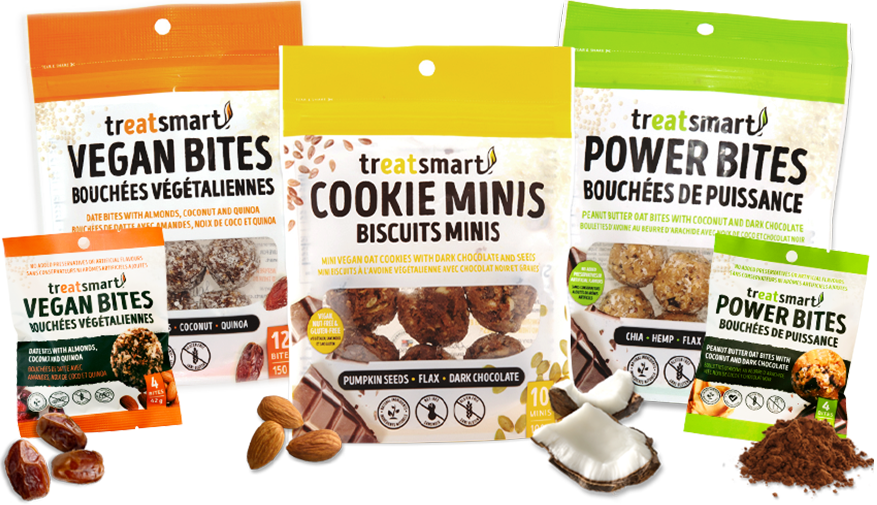 Interview with Simrit Ollek, Founder of TreatSmart
LCG Foods sat down with TreatSmart's found, Simrit Ollek and asked her some questions to better understand the brand's vision, core values, and other topics that we thought potential retail partners would want to know.
What motivated you to start your company and create the products that we see today?

A belief that I could take my passion for baking healthy, gluten-free treats beyond my kitchen and provide people in our busy world with delicious, convenient and nutritious snacks. I wanted to introduce a line of healthy treats made with simple, whole ingredients so that, whether one makes them at home or purchases them at their local grocer, the quality and taste would be un-compromised.

What are your company's core values?

Excellence: We are passionate and try our best at everything we do. We constantly grow, learn and innovate while holding ourselves accountable for our actions and what we put out into our world.
Integrity: We are genuine, open, honest, humble, and inclusive.
Community: We believe in supporting our local communities and being ethically and socially responsible. We try our best to make the world better environmentally and socially with our community endeavours for current and future generations.
I want like my customers to enjoy their TreatSmart and feel at ease knowing they are eating a healthy and nutritious snack. I would like to inspire a world where everyone can reach beyond their boundaries and by doing so, if TreatSmart can aide with that process by providing healthier snacks along the way, that is what makes me happy and all of this worth it!

If you could tell a retailer three things about what makes your brand different, what would they be?

a. All the ingredients in any TS snack can easily be found in your kitchen at home.
b. We do not compromise on taste regardless of whether our products are gluten-free, vegan, dairy-free, nut-free and natural!
c. We are a local, Canadian company… Doesn't get better than that.
What were the challenges or issues to bring your business to its current state?
Balancing family (husband and 2 young boys) with work has been a challenge. As a wife and a mother, TreatSmart began as a "fun hobby" from the kitchen at home, however, I quickly learned that starting a business is hard work which requires determination, persistence, courage, and sleepless nights! It is not for the faint of heart! I learned to make sure that you open and take a look into the many doors that may present themselves to you along the way. Don't be afraid of taking risks and always remember, it is an emotional rollercoaster all the way!
What do you enjoy doing outside of work?
Love spending time with my family and friends. I believe in an active, fit and healthy lifestyle. Yoga, walking, biking and travelling keep me happy and motivated to be my best. In addition, eating healthy and keeping both mentally and physically fit, are very important lifestyle choices for me.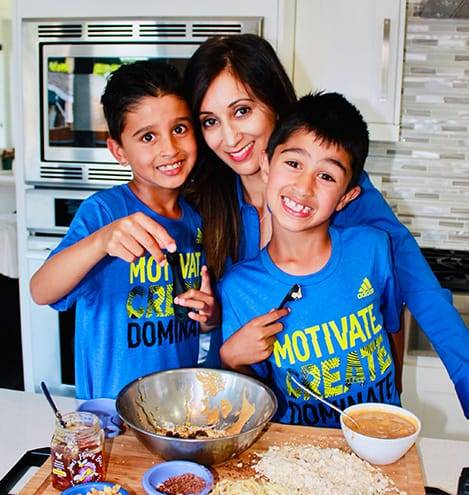 TreatSmart - Featured Products
Contact us today to add this quality, popular health food snack to your store's shelves.
If you own or manage a health food store, you know it's hard work to maintain a successful business. From developing customer loyalty, to managing costs, to staying competitive with the big grocery store down the street, we get that you want your suppliers to work as hard as you do.
At LCG Foods Distribution, we carefully curate a lean wholesale catalog of only the hottest natural food products, with new product launches every few weeks. Whether your store values organic, non-GMO, vegan, gluten-free, or keto, we have the products your customers are looking for, before they know they're looking for them.
We offer straightforward, no-nonsense pricing, and ordering can be done easily online, by email, or over the phone with your account manager. All orders are processed on-demand from our distribution centres in Ontario and British Columbia, with Canada-wide service.

Get started today by browsing all the TreatSmart Bites, or take a look at our full product offering, then, if you'd like to explore wholesale pricing for your business, simply complete the form below and an LCG Foods representative will get in touch with you within 2-4 hours during the work week.
Request Wholesale Pricing - Account Setup