Home

/

Chickapea Organic Chickpea & Lentil Vegan Mac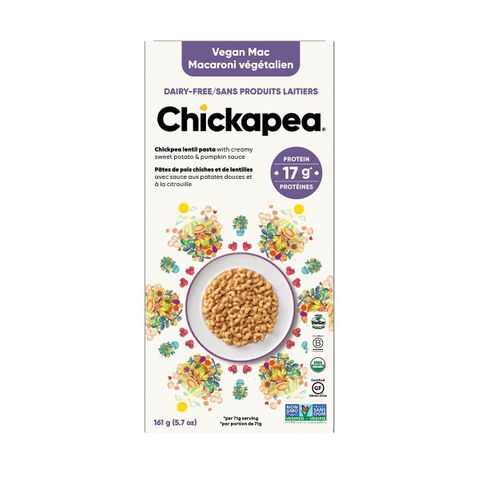 Chickapea Organic Chickpea & Lentil Vegan Mac
Why we love Chickapea Pasta Chickpea and Lentil Vegan Mac
Chickapea Pasta is sure to be a hit with all audiences! This wholesale gluten-free food product is ready in just 5-6 minutes and loaded with protein, fibre, vitamins and minerals.
What makes Chickapea Pasta Chickpea and Lentil Vegan Mac different
Chickapea Pasta is made with just two beautiful ingredients: organic chickpeas and organic lentils. Best of all, it tastes like pasta! The new Chickapea Vegan Mac comes with a savoury vegan sauce packet made with strictly organic ingredients.
Chickapea Pasta Chickpea and Lentil Vegan Mac product description
Certified USDA Organic
Non-GMO Project Verified
Certified Kosher
VegeCert Vegan
Certified Gluten Free
17g of protein per serving
Ingredients: Organic chickpea and lentil pasta (Organic chickpea flour, organic lentil flour), Organic Vegan Seasoning (Organic pumpkin powder, organic sweet potato powder, organic tapioca starch, organic cauliflower powder, sea salt, organic nutritional yeast, organic paprika, organic onion powder, organic garlic powder).