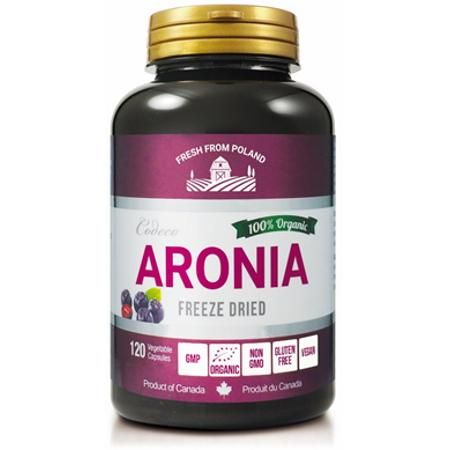 Codeco Nutrition Organic Supplements
Why we love Codeco Nutrition Organic Aronia Freeze Dried Powder
The health benefits of aronia are linked to its high content of nutrients called polyphenols. Research has found aronia to have the highest polyphenol content of 143 plants. The berry has been shown to inhibit the growth of the cancer cells, as wells as boost the immune system and reduce inflammation related to diabetes. This wholesale natural health product has also demonstrated the ability to improve organ health through antioxidant activity.
What makes Codeco Nutrition Organic Aronia Freeze Dried Powder different
Codeco Nutrition is the exclusive Canadian importer from Europe's largest organic aronia farm, located in Poland. This farm's expertise is known for suppling seedlings and aronia berries to leading European hospitals for cancer research and treatment. The freeze-dried powder form is great for use on yogurt, drinks, and smoothies. It has a tart/sweet taste.
Codeco Nutrition Organic Aronia Freeze Dried Powder product description
No fillers or excipients added
This product is packed in Canada
Certified by European Organic Regulations (EEC)
GMP, vegan
Non-GMO
Gluten-free
Ingredient: 100% Organic Freeze Dried Aronia powder.