Home

/

Miracle Noodle Bone Broths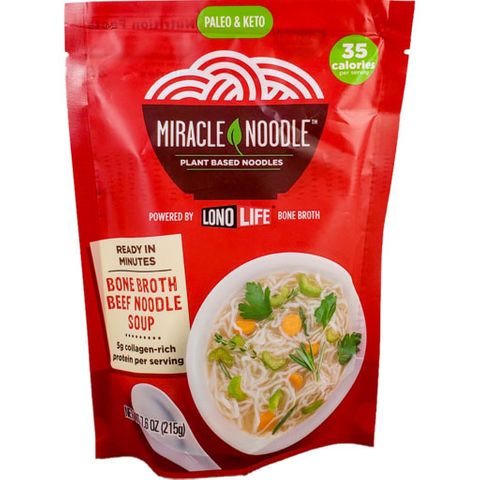 Miracle Noodle Bone Broths
Winter shipping notice: This item is at risk of freezing and becoming damages at freezing temperatures. Thermal protection will automatically be added at no charge for all orders that meet the minimum for free shipping. If your order does NOT meet minimum, please order the $5 flat rate thermal protection. This fee covers your entire order for cold-sensitive items.
Why we love Miracle Noodle Bone Broth Soup
Instantly ready to eat Miracle Noodles are the perfect replacement for regular high carbohydrate noodles and pasta. With Bone Broth made from grass-fed pasture-raised beef, or roasted chicken.
What makes Miracle Noodle Bone Broth Soup different
This package of noodles has almost no calories and carbs which makes it the perfect addition to your kitchen pantry. They are made with glucomannan, widely used in Asia with a very low glycemic index. Miracle Noodles can help you feel full faster. This wholesale gluten-free food product is great for those who hope to control their blood sugar level.
Miracle Noodle Bone Broth Soup product description
With fresh vegetables and a secret blend of herbs, Miracle Noodle Bone Broth Soup is an excellent source of collagen. Low in carbs and high in flavour.
Gluten-free
Fat Free
Dairy Free
Non-GMO
Paleo Friendly
Ingredients
Noodle Ingredients: Water, konjac flour, citric acid.
Beef Broth Ingredients: Beef collagen, chicory root, beef, salt, yeast extract, natural flavors, spices.
Chicken Broth Ingredients: Chicken bone broth, chicory root, yeast extract, salt, natural flavors, black pepper, sage, thyme.