Home

/

Miracle Noodle Organic Shirataki Noodles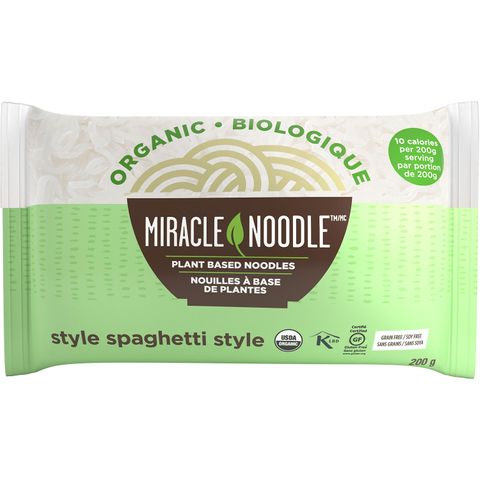 Miracle Noodle Organic Shirataki Noodles
Winter shipping notice: This item is at risk of freezing and becoming damages at freezing temperatures. Thermal protection will automatically be added at no charge for all orders that meet the minimum for free shipping. If your order does NOT meet minimum, please order the $5 flat rate thermal protection. This fee covers your entire order for cold-sensitive items.
Why we love Miracle Noodle Organic Shirataki Noodles
Konjac noodles are made with soluble fibre (glucomannan) and water. The organic version offers another option for those who want stay away from modified food.
Simply drain, rinse and cook! Miracle Noodles are ready in minutes and are great for noodle soup, stir fry, cold noodle salad or as pasta!
What makes Miracle Noodle Organic Shirataki Noodles different
Konjac root is approximately 40% soluble fibre giving a boost of fibre to the diet. Now available in organic options!
Miracle Noodle Organic Shirataki Noodles product description
Miracle Noodles are made from glucomannan, also known as konjac fibre, which is a water-soluble fibre derived from the root of the konjac plant that grows in China and Japan. Glucomannan is widely used in Asia as traditional foods, such as noodles, tofu and heat stable gelled food products. Konjac foods are very low carb and very low glycemic nature food.
Note: This wholesale health food product does not require refrigeration. Please refrigerate the noodles if you wish to prolong shelf life (but do not put in the freezer) upon receipt. Shelf life can be extended by up to 4 months in the refrigerator.
***Pre-Preparation Directions for Shirataki Noodles***
Miracle Noodles are instantly ready. Just drain the pack and rinse in a strainer or colander for a couple of minutes. Lightly boil for 1 min. It can be added to cooking dishes to absorb the flavour all the while retaining its consistency.
Ingredients: Water, organic konjac flour, citrus acid.