Home

/

The Garlic Box Canadian Grown Garlic Products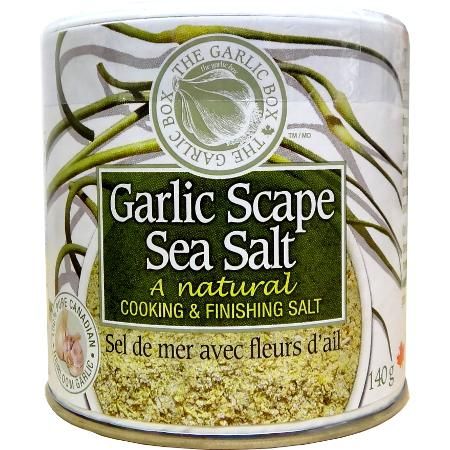 The Garlic Box Canadian Grown Garlic Products
Winter shipping notice: Items in this group with liquids are at risk of freezing and becoming damaged at freezing temperatures. Thermal protection will automatically be added at no charge for all orders that meet the minimum for free shipping. If your order does NOT meet minimum, please order the $5 flat rate thermal protection. This fee covers your entire order for cold-sensitive items.
Why we love The Garlic Box
Garlic is known for many great properties, being anti-viral, anti-fungal, anti-microbial, and preserves good bacteria. The long 10-month maturation of Ontario garlic establishes healthy bulbs with a rich flavour profile.
What makes The Garlic Box different
The Garlic Box is a family-run business that grows non-GMO, pesticide-free, non-irradiated garlic on its farm in Hensall, Ontario. They use their high-quality garlic to create gourmet products without any artificial ingredients.
The Garlic Box product description
A variety of premium seasoning blends and splashes suitable for cooking and finishing. Select, cold-climate garlic is blended with salty, acid, and savoury gourmet flavours to bring out the goodness of garlic onto your plate everyday with these wholesale natural food products.
Ingredients
Balsamic Vinegar with Garlic: Balsamic vinegar, fresh Ontario garlic.
Garlic Mashed Potato Seasoning: Roasted garlic, garlic, garlic scapes, coarse sea salt, skim milk powder, chives.
Garlic and Horseradish Seasoning: horseradish, garlic, roasted garlic, garlic scapes, mustard, coarse sea salt, chives, sugar.
Smoked Garlic Seasoning: smoked garlic, garlic, smoked paprika, garlic scapes, chipotle, parsley, black pepper, cumin.
Garlic Scape Sea Salt: Coarse sea salt, garlic scapes, silicone dioxide (anti-caking agent).
Roasted Garlic Sea Salt: Roasted garlic, Kosher coarse sea salt.
Epic Garlicky Fry Salt: Coarse sea salt, Ontario garlic, paprika, raw sugar, chili pepper, nutritional yeast, spices.
Garlicky Chili Lime Chicken Splash: Water, lime juice (sulphites), coarse sea salt, garlic, chili powder, garlic, cayenne pepper, spices, citric acid, sorbic acid, sodium benzoate.
Ontario Garlic Steak Splash: Water, sea salt, garlic, cayenne pepper, citric acid, sorbic acid, sodium benzoate.
Horseradish Garlic Marinating Splash: Water, vinegar, sea salt, garlic, horseradish juice, cayenne pepper, spices, citric acid, sorbic acid, sodium benzoate. (May contain some sugars).
Olive Tapenade with Garlic: Black olives, green olives, crushed tomato, balsamic vinegar, garlic, sun dried tomato, olive oil, salt.
Apple Cider & Garlic Vinaigrette: Organic apple cider vinegar, sunflower oil, garlic, sugar, salt, black pepper, mustard seed, xanthan gum.