Home

/

hOMe Grown Living Foods Organic Sprouted Trail Mix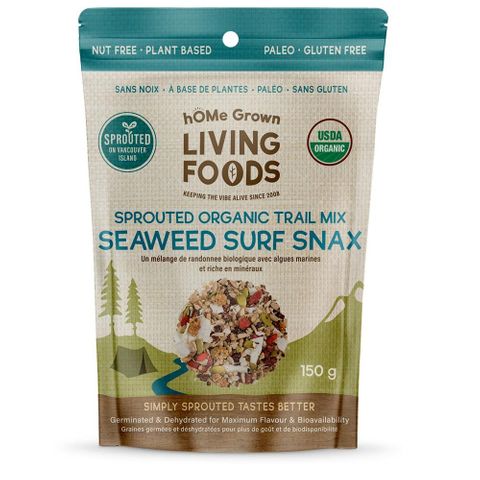 hOMe Grown Living Foods Organic Sprouted Trail Mix
Why We Love hOMe Grown Living Foods Trail Mix:
This trail mix is made by hand in small batches in the Cowichan Valley on Vancouver Island. hOMe Grown Living Foods' head alchemist is a type 1 diabetic and has formulated all home grown living foods to meet the low carb lifestyle.
What Makes hOMe Grown Living Foods Trail Mix Different:
Made of organic nuts & seeds that have been soaked to activate, releasing digestive inhibitors and reducing lectins and phytic acid. Slow & low dehydration maintains the integrity and maximizes the bioavailability of the nutrients. The process also creates a very shelf stable product.
hOMe Grown Living Foods Organic Trail Mix Product Description:
Certified organic
Sprouted
Gluten free
Low carb
Keto friendly
Ingredients: Sprouted sunflower seeds*, sprouted pumpkin seeds*, hemp*, cacao nibs*, ribbon coconut*, mulberries*, goji berries*, wild crafted seaweed.
*Organic