Home

/

Miracle Noodle Ready-to-Eat Noodles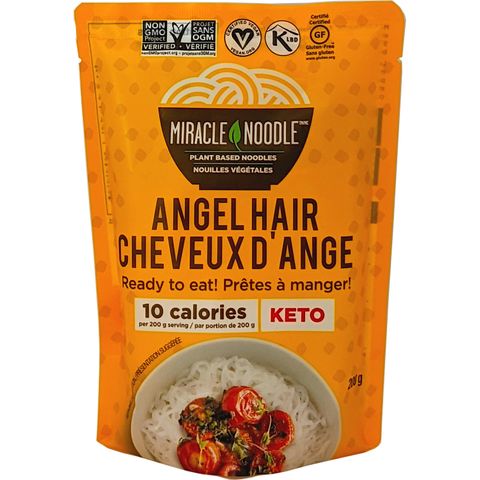 Miracle Noodle Ready-to-Eat Noodles
Winter shipping notice: This item is at risk of freezing and becoming damaged at freezing temperatures. Thermal protection will automatically be added at no charge for all orders that meet the minimum for free shipping. If your order does NOT meet minimum, a $5 surcharge will be added to your shipping charge. This fee covers your entire order for cold-sensitive items.
Why We Love Miracle Noodle Ready-to-Eat Noodles:
First to Market Ready to Eat Shirataki Noodles! Miracle Noodle, a traditional shirataki noodle, is a unique plant-based food product made from 97% water and 3% konjac root plant fibre. It's filling, yet naturally low in calories (only 5 Calories per serving).
What Makes Miracle Noodle Ready-to-Eat Noodles Different:
These noodles are made from the same recipe that Buddhist Monks have used for over a thousand years. Looking to bring plant-based inspiration and innovation to every meal, Miracle Noodle created a line of healthy plant-based products that offer delicious and satisfying meal options. These noodles are precooked and made ready for 21st century convenience.
Miracle Noodle Ready-to-Eat Noodles Product Description:
Just drain any residual water and toss in soup, stir fry or make your favorite pasta or rice dish. Quick, Easy and Health. Ready to Eat Noodles come in four different shapes: Angel Hair, Fettuccine, Spaghetti and Rice.
Certified: Gluten Free, Kosher, Non-GMO, Vegan
Keto-Friendly, FODMAP-Friendly, and Diabetic-Friendly
Natural prebiotic fibre to help microbiome
Curbs appetite, compatible with various food regime programs
Versatile, quick and healthy
Plant Based
Low Calorie, Low Carb, No Sugar, Dairy Free, Fat Free
Ingredients: Water, Konjac Flour, Citric Acid