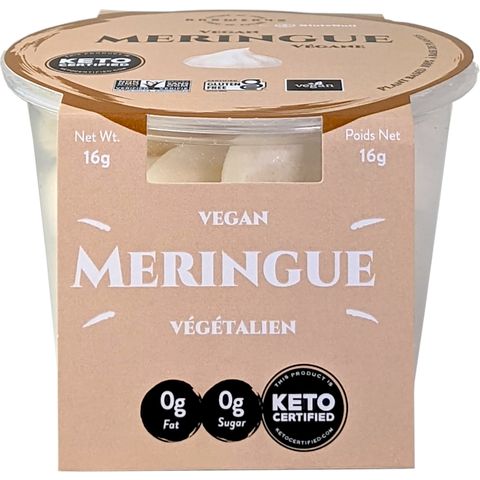 Answer42 Meringue
Why We Love Answer42 Sugar-Free & Vegan Meringues:
The secret to GluteNull's Meringues is the premium Aquafaba, made in-house from the finest chickpeas, whipped to perfection for each batch to produce a light, airy product that melts in your mouth. We also add Swerve zero-calorie sweetener for a delightful sweetness that anyone can enjoy!
What Makes Answer42 Sugar-Free & Vegan Meringues Different:
While most meringues on the market contain both eggs and sugar, GluteNull's innovative recipe is proudly egg-free and sugar-free!
Answer42 Sugar-Free & Vegan Meringues product description:
These delicious plant-based treats make a perfect snack on their own and are also a great addition to homemade desserts.
Certified Keto
Certified Vegan
Certified Gluten Free
Non-GMO
Diabetic friendly
Ingredients:
Aquafaba (boiled chickpea water), swerve sweetener (erythritol, oligosaccharides, natural flavours), Lemon Juice, Xanthan Gum, Organic Vanilla Beans.
Contains: Made in a facility that handles almonds and walnuts.