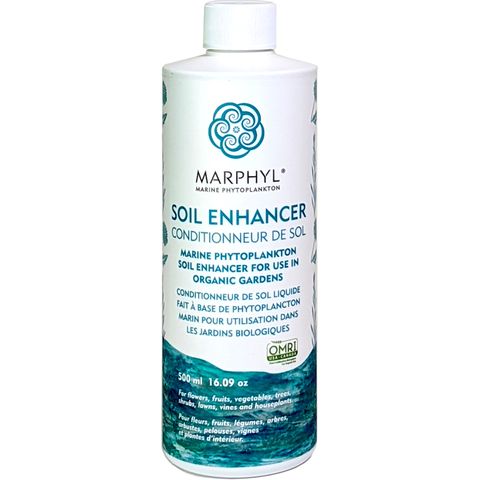 Marphyl Organic Liquid Fertilizer
Winter shipping notice: This item is at risk of freezing and becoming damaged at freezing temperatures. Thermal protection will automatically be added at no charge for all orders that meet the minimum for free shipping. If your order does NOT meet minimum, a $5 surcharge will be added to your shipping charge. This fee covers your entire order for cold-sensitive items.
Why We Love Marphyl Organic Soil Enhancer:
This 100% natural liquid fertilizer is made from sustainably harvested, wild, multi-species marine phytoplankton, sourced from the coast of Vancouver Island, Canada. It enhances the soil quality and promotes optimal health and growth for any plant it is added to, including house plants, potted herbs, vegetables and fruit gardens, bamboo, succulents, and even indoor hydroponic systems!
What Makes Marphyl Organic Soil Enhancer Different:
It's easy to use, completely plant-based, and safe for the whole family and pets. Unlike other fertilizers made from chemicals and/or animal waste, this Organic Soil Enhancer is a clean and sustainable option not only a great choice for your plants, but also for people and the planet. Like "superfood" for your plants, this product is packed with essential nutrients, including nitrogen, phosphorus, potassium, magnesium and calcium.
Product Description:
MARPHYL Organic Soil Enhancer is the missing ingredient in your gardening routine! Made from marine phytoplankton, it restores nutrients to soil to maximize the growth and appearance of your plants. Notice rich colours in your flowers and long-lasting health in all types of indoor and outdoor plants, thanks to essential nutrients naturally occurring in this product.
100% Natural

Organic (OMRI) Certified

Vegan

Non-Toxic

Run Off Safe

Suitable for Indoors, Outdoors & Hydroponics

Harvested and Packaged on Vancouver Island, B.C.
Ingredients
Wild and Multi species Marine Phytoplankton (up to 80 species)