Home

/

Equal Exchange Fair Trade & Organic Coffees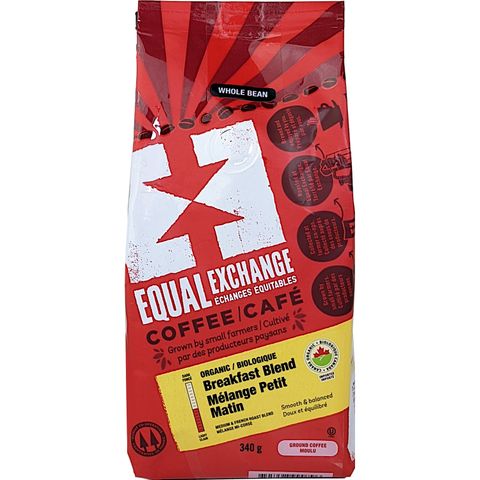 Equal Exchange Fair Trade & Organic Coffees
Why We Love Equal Exchange Fair Trade & Organic Coffee:
These aromatic coffee blends are made from organically grown and fairly traded coffee beans sourced directly from small-scale farmers located in Peru and Nicaragua (Breakfast Blend and French Roast) and southern Mexico (Mind, Body & Soul Blend). With low acidity levels and pronounced flavour notes, these coffees are carefully crafted and developed to their full potential by a talented team of roasters – guaranteeing enjoyment in every cup!
What Makes Equal Exchange Fair Trade & Organic Coffee Different:
Equal Exchange's Organic coffee beans are sourced from small-scale family farmers, either directly or in partnership with worker co-operatives that ensure transparency and fairness in the supply chain. In addition, many of these suppliers are part of larger organizations geared towards improving the lives and working conditions of people living in their communities. Your customers will not only love the taste and quality of these coffees, but can also feel good about making a socially and environmentally conscious purchase.
Equal Exchange Fair Trade & Organic Coffee Description:
Café-quality whole and pre-ground Organic coffee beans, perfect for enjoying from the comfort of home!
Certified Organic (Canada Organic)
Fairly-Traded
Sourced from Small-Scale Farmers
Kosher
Expertly Roasted
No Artificial Flavours
Ingredients:
Breakfast Blend Whole Bean Coffee: Organic whole coffee beans. (Medium Roast)
Breakfast Blend Ground Coffee: Organic ground coffee beans. (Medium Roast)
French Roast Ground Coffee: Organic ground coffee beans. (Dark Roast)
Mind Body & Soul Ground Coffee: Organic ground coffee beans. (Medium-Vienna Roast)