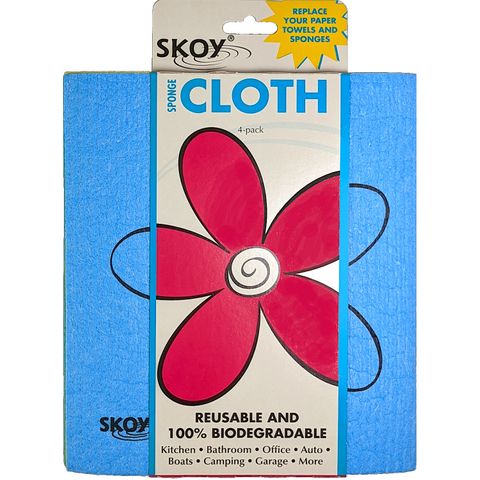 Skoy Cloths
Why We Love Skoy Cloths:
With an absorbency factor of 15x its weight and the ability to fully decompose within 5 weeks, the Skoy Cloth is a revolutionary product that helps reduce waste and save money while keeping your home impeccably clean! A cost-effective and versatile alternative to paper towels, they are safe to use on any hard surface and easily last for months.
What Makes Skoy Cloths Different:
Skoy Cloths are made from natural cotton and wood pulp fibres, meaning they are 100% biodegradable when properly composted. Skoy Cloths can be sterilized in the microwave or conveniently cleaned in the dishwasher or washing machine.
Product Description:
Available in assorted colors, Skoy Cloths are made from sustainably sourced wood pulp cellulose and cotton which makes them super absorbent and 100% biodegradable. Use them to clean the kitchen, bathroom, pots and pans, and any other hard surfaces around the house.
Made from Natural Materials and Dyes
100% Compostable & Biodegradable
15x Absorbency Factor
Reusable & Durable
Each Cloth - 7in x 8in
4 Cloths per Pack
Ingredients
Skoy Cloth: 70% Cotton, 30% Wood pulp cellulose*.
*Sustainably harvested.