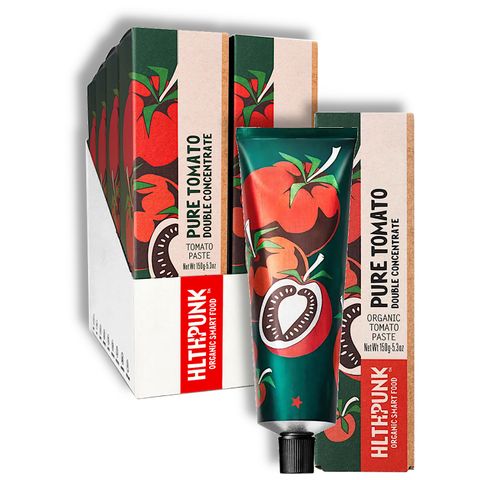 HLTHPUNK Sauces
Why We Love HLTHPUNK Sauces:
These sustainable, delicious, plant-based sauces are made from 100% Certified Organic ingredients and packaged in beautifully designed, convenient squeeze tubes. With a focus on the wellness of our planet and society, plus ultra clean labels that health-conscious consumers will love, these sauces are punking the condiment category.
What Makes HLTHPUNK Sauces Different:
Organic certified to the highest of European and US standards, these fully vegan culinary creations are free from GMO ingredients, soy, gluten and added sugars, with zero preservatives or additives of any kind. Vegetarian? Vegan? Flexitarian? HLTHPUNK is for the 'Planetarians' - those who live on planet Earth and love and delight in her bounty with a commitment to healing her.
Product Description:
Truly healthy 100% plant-based sauces with ultra clean labels. Spread them on burgers, wraps, sandwiches, and more. Great for dips, marinades, glazes, salad dressings, soups, pasta, stews, and more. Your customers will love the versatility and award-winning tastes of these premium condiments. Seriously – they taste great in everything! Vegan tested and omnivore approved.
Vegan
Gluten-Free
Soy-Free
100% USDA Certified Organic
Recyclable Squeeze Tubes
Zero Added Sugars
2% for Biodynamic Agriculture
Ingredients
Double Concentrate Tomato Paste: Tomatoes*.
Dijon Mustard: Mustard seeds*, vinegar*, Water, Sea Salt.
UFO Burger Sauce: Mustard*(brown mustard seeds*, spirit vinegar*, water, sea salt), sunflower oil*, water, tomato paste*, date syrup*, onion*, garlic*, turmeric*, sea salt, vinegar*, cayenne*, lemon juice concentrate*, Maca*, acerola*, white pepper*.
Harissa Chili Paste: Water, cayenne chili*, olive oil*, smoked paprika*, sweet paprika*, sea salt*, lemon juice concentrate*, garlic*, cumin*, coriander*, onion*, Acerola*, turmeric*, oregano*, white pepper*.
Refrigerate after opening and consume within 6 months.
*Organic