Home

/

Allo Protein Powder for Hot Coffee (Sachets)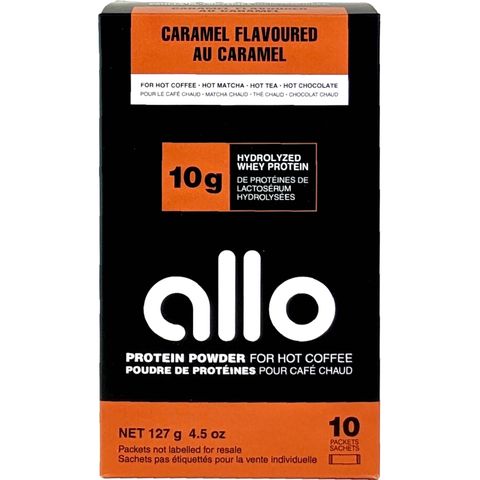 Allo Protein Powder for Hot Coffee (Sachets)
Why We Love Your Product:
Allo Protein Powder is designed to instantly dissolve into any hot application, with zero added sugars and 10g of protein per serving! Made with clean ingredients including high-quality hydrolyzed whey protein and natural flavours, and packaged in a single serving sachets that can be taken on the go for easy measuring and zero mess.
What Makes Your Product Different:
Allo Protein Powders for hot coffee are designed for those that like their coffee black, unlike Allo Protein Creamers, which make the coffee sweet and creamy. While most other protein powders are designed for cold applications and involve the use of blenders, shakers, and other bulky equipment – Allo Protein Powders easily dissolve into any liquid or semi-liquid with just the stir of a spoon! Add it to beverages, baked goods, oatmeal, yogurt and more!
Product Description:
Allo Protein Powder is made from high-quality hydrolyzed whey protein powder, available in 4 naturally curated flavours. With zero added sugar, it's the perfect way to enhance your morning beverages or support intermittent fasting goals. Very easy to cook and bake with, see Allo's Recipe Blog and YouTube videos for how Registered Dietitians are incorporating Allo into their everyday recipes.
Gluten-Free
Sugar-Free
Keto Friendly
Non-GMO
Naturally Flavoured
Ingredients
Caramel: Hydrolyzed whey protein concentrate, Natural flavours, Soya lecithin | Contains: Milk, Soy
Hazelnut: Hydrolyzed whey protein concentrate, Natural flavours, Soya lecithin, Salt | Contains: Milk, Soy
Natural: Hydrolyzed whey protein concentrate, Natural flavours, Soya lecithin, Salt | Contains: Milk, Soy
Vanilla: Hydrolyzed whey protein concentrate, Natural flavours, Soya lecithin | Contains: Milk, Soy