Home

/

Allo Protein Powder for Hot Coffee Variety Pack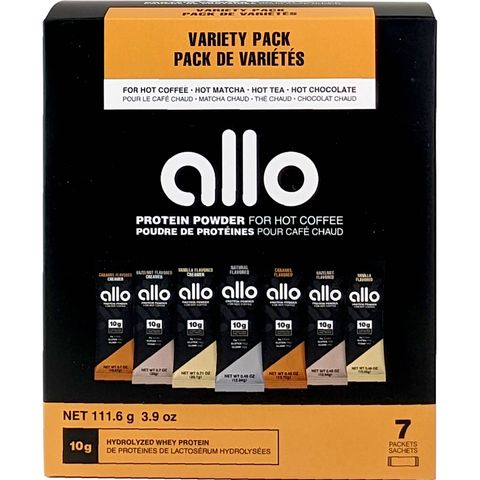 Allo Protein Powder for Hot Coffee Variety Pack
Why We Love Your Product:
Allo's Protein Powders and Creamers for hot coffee guarantee a clump-free experience. While other protein powders and creamers get clumpy and grainy in hot applications, Allo's clump-free guarantee leaves you with a satisfying functional beverage and zero mess or fancy equipment required. Allo's Variety Pack allows you to experience all the flavours and formats available! Have a favourite? Check out Allo's Value-Sized Tubs.
What Makes Your Product Different:
Allo requires zero equipment to add high quality hydrolyzed whey protein to your hot beverages. Simply stir the convenient single-serving sachets into your coffwee, and instantly boost your beverage with 10g of protein, 0g of sugar, and delicious naturally-curated flavours. Allo Protein Creamers make your coffee sweet and creamy and feel like it was made in a specialty coffee shop - minus the added sugars. Allo Protein Powders keep your coffee black while adding protein and a hint of natural flavour. Allo products also work great in baking applications! Check out suggested Recipes on the Allo website.
Product Description:
Allo's Variety Pack of 4 Protein Powders and 3 Protein Creamers allow you to see all the wonderful ways you can boost your morning coffee. The Creamers are made from a revolutionary blend of hydrolyzed whey protein powder and a sunflower oil-based creamer, making your coffee instantly sweet and creamy without the added sugars or calories. The Protein Powders instantly dissolve into your hot coffee or tea, giving you a 10g protein boost while keeping your coffee black. Allo's products are all gluten-free, sugar-free, peanut-free, and best of all, clump-free.
Gluten-Free
Sugar-Free
Keto Friendly
Non-GMO
10g Protein per Sachet
Naturally Flavoured
Ingredients:
Protein Powders
Caramel: Hydrolyzed whey protein concentrate, Natural flavours, Soya lecithin | Contains: Milk, Soy
Hazelnut: Hydrolyzed whey protein concentrate, Natural flavours, Soya lecithin, Salt | Contains: Milk, Soy
Natural: Hydrolyzed whey protein concentrate, Natural flavours, Soya lecithin, Salt | Contains: Milk, Soy
Vanilla: Hydrolyzed whey protein concentrate, Natural flavours, Soya lecithin | Contains: Milk, Soy
Protein Creamers
Hazelnut: Hydrolyzed whey protein concentrate, Sunflower oil coffee whitener (sunflower oil, corn syrup solids, sodium caseinate, mono and diglycerides, dipotassium phosphate, tocopherols, tricalcium phosphate, soya lecithin), Natural flavours, Soya lecithin, Salt, Stevia leaf extract. | Contains: Milk, Soy
Vanilla: Hydrolyzed whey protein concentrate, Sunflower oil coffee whitener (sunflower oil, corn syrup solids, sodium caseinate, mono and diglycerides, dipotassium phosphate, tocopherols, tricalcium phosphate, soya lecithin), Natural flavours, Soya lecithin, Stevia leaf extract. | Contains: Milk, Soy
Caramel: Hydrolyzed whey protein concentrate, Sunflower oil coffee whitener (sunflower oil, corn syrup solids, sodium caseinate, mono and diglycerides, dipotassium phosphate, tocopherols, tricalcium phosphate, soya lecithin), Natural flavours, Soya lecithin, Stevia leaf extract. | Contains: Milk, Soy