Home

/

Allo Protein Creamer for Hot Coffee (Sachets)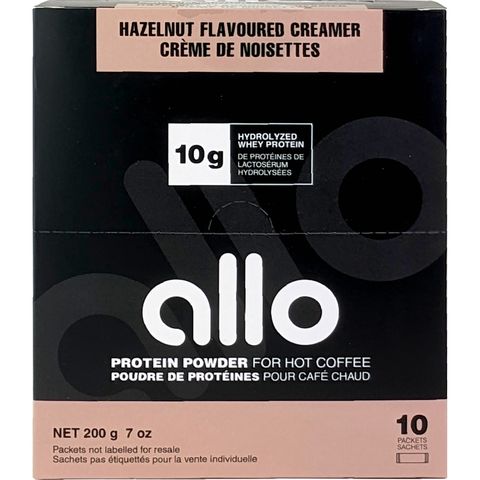 Allo Protein Creamer for Hot Coffee (Sachets)
Why We Love Allo Protein Creamer for Hot Coffee:
Allo Protein Creamers make your morning beverage taste like a speciality coffee drink, with zero added sugar and 10g of protein per serving! Made from clean ingredients and high-quality hydrolyzed whey protein, they are packaged in convenient packets that can be taken on the go for easy measuring and zero mess.
What Makes Allo Protein Creamer for Hot Coffee Different:
Allo's Protein Creamers guarantee a clump-free experience. While other protein powders and creamers get clumpy or grainy in hot applications, Allo's clump-free guarantee leaves you with a satisfying, functional beverage you can enjoy – with no equipment necessary.
Product Description:
Allo Protein Creamers are made from a revolutionary blend of hydrolyzed whey protein powder, sunflower oil-based creamer, natural flavours and natural sweetener. They are designed to dissolve into hot liquids with just a stir, instantly giving you 10g of protein and making your coffee taste sweet and creamy and without the added calories or sugar. Check out Allo Protein Powders, for those that like their coffee black, but with added benefits. Allo's products are always gluten-free, sugar-free, peanut-free, and best of all, clump-free.
Gluten-Free
Sugar-Free
Keto Friendly
Naturally Flavoured
Please see below for ingredients.