NEW from Anthony's Goods: Functional Baking Ingredients!
Check out the latest additions to our line of whole, natural, premium baking and cooking ingredients from Anthony's Goods...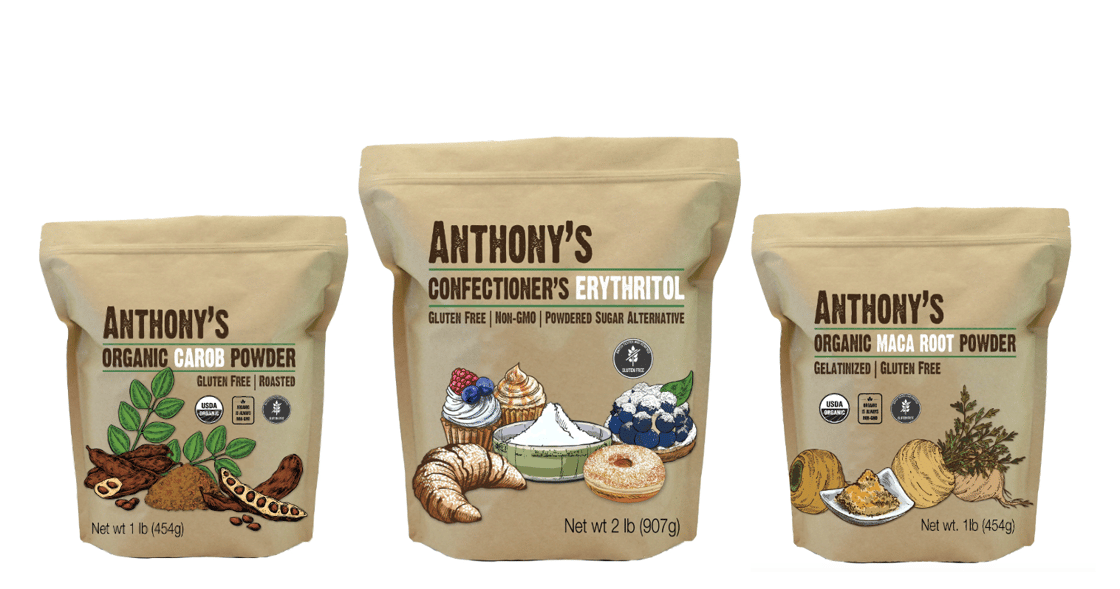 Organic Carob Powder, Confectioner's Erythritol & Organic Gelatinized Maca Root Powder!
Why we love these new SKUs
These products can be used in baking, smoothies, adding to cereals and yogurt, and creating nutritious, sugar-free recipes!
What makes Anthony's Goods' products different?
They are always made with clean, simple ingredients sourced from the best suppliers around the world. These premium products are also highly accessilbe; packaged in large resealable bags so your customers get the best value.
USDA Certified Organic (certain SKUs)

Batch tested & Verified Gluten-Free

Free from additives and preservatives

No added sugars

Great customer reviews!
Anthony's Goods Confectioner's Erythritol

This is an all-natural, zero carb, zero calorie, zero glycemic substitute for traditional confectioner's or icing sugar. Use it for baking and decorating!

Anthony's Confectioner's Erythritol is made from premium, non-GMO extra-fine erythritol sweetener. With zero preservatives and great value in a 2-pound, resealable bag, your customers will love this product!
Anthony's Goods Organic Carob Powder

This organic carob root powder is a plant-based caffeine-free cocoa alternative with a chocolate-like flavour and mild sweetness. It is also nutritionally-dense, with high iron and fibre contents.

Anthony's Goods Organic Carob Powder is lightly roasted to enhance its flavour and natural sweetness. Customers looking to minimize caffeine from cocoa/chocolate can use this product in baking recipes, smoothies, or milkshakes, and add more to essential minerals to their diets.
Anthony's Goods Organic Gelatinized Maca Root Powder (Vegan)

Anthony's Goods Organic Maca Root Powder has been gelatinized for easier digestibility and improved texture and flavour. It has a sweet, smooth taste with flavour notes of malt, oats, and butterscotch. It pairs exceptionally well with sweet flavours like cocoa and caramel and adds a boost of hormone-balancing compounds to recipes. Your customers will love adding this Peruvian superfood to their smoothies, granola, overnight oats, chia seed pudding, and hot beverages like lattes and hot chocolate.