Get ready for summer with New True Citrus Twist Lemonades for Kids!
Why we love True Citrus Twist Lemonades for Kids
New True Citrus Twist Lemonades for Kids are made from the juices and oils of real, fresh lemons, carefully selected for their superior taste. The lemons are cold-pressed and crystallized to lock in their freshly-squeezed taste. Because of this, True Citrus always delivers consistently on flavour! Sweetened with stevia extract, they are a lower sugar, lower calorie option compared to other brands of lemonade and limeade on the market, and perfectly safe for children to consume.
With 92% less sugar than regular juice, soda and other popular kids' beverages, these are a great choice for parents shopping for healthier alternatives for their family. Parents can feel great knowing they have a convenient, all-natural way to help their kids hydrate on those hot summer days. Kids love being outdoors, and need enough hydration to stay healthy & active. Why not choose something that tastes great, too!?
Give your customers an easy-to-make, low-sugar drink that their kids will love. True Citrus Twist Lemonades for Kids come in exciting, fun, and 100% naturally-derived flavours including Blue Raspberry, Pink Lemonade and Fruit Punch!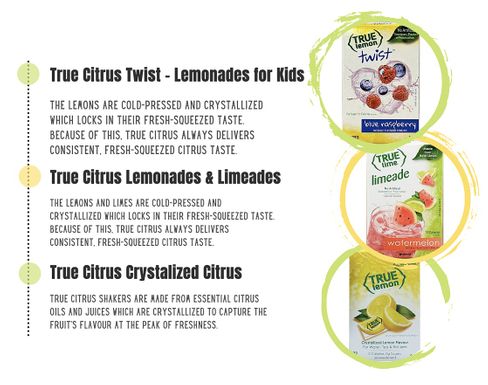 Something for the parents, too?
Explore the full range of True Citrus all-natural Lemonades, Limeades, and Crystallized Citrus Shakers. These are the perfect for customers looking for clean, natural citrus beverage mixes to help them achieve their daily water intake goals. True Citrus Shakers can also be used as low sugar seasonings on grilled vegetables, seafood, or sauces and salad dressings! Your customers can bake with them, too. These versatile, products are sure to be a hit this summer!
Order True Citrus today or register to become a retailer with LCG Foods Distribution to carry more products like these.