Canada's First Keto-Friendly Ready-to-Eat Noodle Meals!
Why We Love Miracle Noodle...
Miracle Noodle products have almost no calories and no carbs, which makes them the perfect healthy swap for traditional noodles, pasta, or rice. They are made with highly satiating konjac fibre, which has been widely used in Asian cuisine for thousands of years for its health benefits.
These gluten-free, plant-based products have a very low glycemic index, so they are great for those wanting to control their blood sugar levels or who have special dietary restrictions.
New! Miracle Noodle Keto Ready-to-Eat Meals
Now, there is a ready-to-eat option suited for keto and low carb diets. These meals can also be enjoyed by anyone simply looking for a healthier, plant-based lunch or dinner meal kit that can be ready in minutes. Simply heat and enjoy, or add your own protein + vegetables!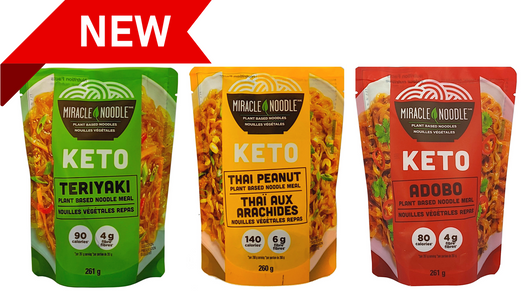 These low-calorie, plant-based Keto Meals are made with clean and fresh ingredients and are a great source of fibre. Available in a variety of customer-requested flavours, including Teriyaki, Thai Peanut, and Spicy Adobo these meal kits combine konjac noodles with homemade sauce recipes full of rich and tangy flavours. A staple for working lives and busy schedules!
Order yours today or request more information from your Account Manager. Register to become a retailer with LCG Foods if you are looking for more products like these to add to your store!