Home

/

Flavorall Alcohol-Free Liquid Stevia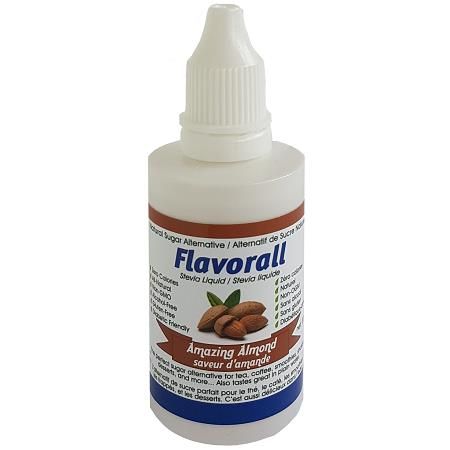 Flavorall Alcohol-Free Liquid Stevia
NEW: Click to view/download the PDF recipe book for Flavorall
Why we love Flavorall Liquid Stevia Drops
Made with stevia, one of the most popular natural sugar substitutes, Flavorall is an easy guilt-free way to sweeten your drinks. There is a total of 25 exciting flavours for all your sweetening needs. Catch up with the sweet concept that is rapidly becoming the favourite of people who want a sugar-free, guilt-free sweet taste.
What makes Flavorall Liquid Stevia Drops different
With each bottle containing around 330 servings, Flavorall offers incredible value. Use it as a healthy sweetener for coffee, teas, smoothies, and water. Enjoy a calorie-free, alcohol-free, and guilt-free sweetness! The best part is, this wholesale gluten-free sweetener leaves no bitter aftertaste!
Flavorall Liquid Stevia Drops product description 
Zero calories
Natural flavours
Non-GMO
Alcohol free
Sugar free
Gluten free
Kosher
Ingredients: Stevia Extract

Other Ingredients: Natural flavour, Purified water, Vitamin C.
Flavorall Product Tray - This tray fits snugly 5 bottles of Flavorall wide x 3 bottles deep (15 bottles). With 20 clean-tasting, zero calorie, zero alcohol varieties, three caddies perfectly displays this top-selling line of liquid flavoured stevia. Free to any retailer carrying Flavorall.
Flavorall Wire Rack - This wire rack fits 12 rows of 4 flavours of Flavorall per row. Available for free with any Flavorall order of 24 or more.
Flavorall Recipe Book - This beautifully produced book contains a dozen recipes sent in by Canadians and can be a source of inspiration for your customers.