Home

/

PB2 Large Powdered Peanut Butters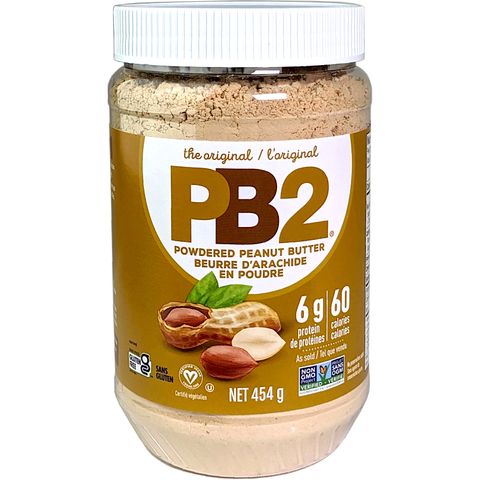 PB2 Large Powdered Peanut Butters
Why we love PB2 Powdered Peanut Butter
PB2 Foods has succeeded at perfecting the all-American staple - peanut butter! Enjoy a PB&J sandwich without worrying about the fat and extra calories! Through a chemical-free unique process created by PB2 Foods, over 90% of the fat is removed from the peanut.
What makes PB2 Powdered Peanut Butter different
With the oil is squeezed out of roasted peanuts, you have a high protein/low-fat peanut powder. Two tablespoons of traditional peanut butter contain about 180 calories, while two tablespoons (approximately 12 grams) of PB2 powder, contains just 54 calories. PB2 also contains approximately 40% protein by weight. PB2 is a powdered peanut butter that can be reconstituted with water or any liquid of consumer's choice - juice, jelly/jam, or honey.
PB2 Powdered Peanut Butter product description
LCG Foods Distribution is Canada's Supplier for Bilingual-Labelled PB2. Now also available in bulk size so everyone can enjoy the goodness of PB2 Powdered Peanut Butter. This wholesale natural food product is delicious on graham crackers, fruit, "salty" crackers, as cupcake icing, ice cream topping, and in smoothies.
High protein
Low fat
Use in smoothies
Great for baking
Ingredients
Original: Roasted peanuts, sugar, and salt.
Chocolate: Roasted peanuts, cocoa, sugar, and salt.
Allergy Information: Contains peanuts.