Home

/

Snow Farms Canadian Grown Dried Fruit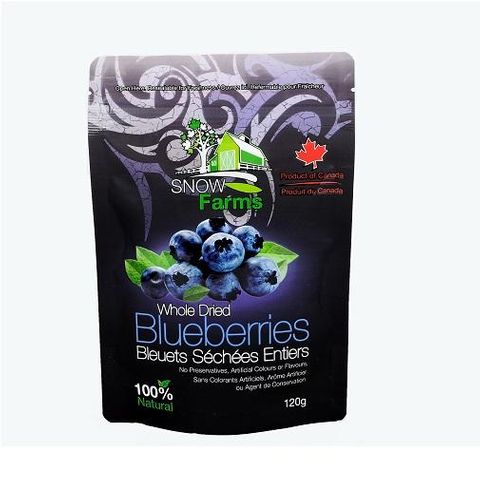 Snow Farms Canadian Grown Dried Fruit
Why we love Snow Farms Canadian-Grown Dried Berries
Sweet and simple, BC-grown berries make a quick, healthy, and inexpensive fruit snack available in several unique flavours.
What makes Snow Farms Canadian-Grown Dried Berries different
Beautifully and strikingly packaged, Snow Farms Dried berries are a convenient impulse purchase for any health food shopper.
Snow Farms Canadian-Grown Dried Berries product description
This wholesale natural food product uses premium BC-grown berries are carefully sweetened by infusing cane sugar to a specified brix level. The infused berries are subjected to a gentle drying technique that locks in the high nutritional contents and are then lightly sprayed with sunflower oil to prevent clumping.
No preservatives, colouring or flavouring are added.
Certified Kosher
Canadian-grown and processed
Ingredients
Tart Cherries: Tart cherries, cane sugar, sunflower oil (<0.5%)
Blueberry: Blueberries, cane sugar, sunflower oil (<0.5%)

Orange Flavoured Cranberries: Cranberries, cane sugar, sunflower oil, natural orange flavour
Pomegranate Flavoured Cranberries: Cranberries, cane sugar, sunflower oil, natural pomegranate flavour