Home

/

Camino Organic Unsweetened Shredded Coconut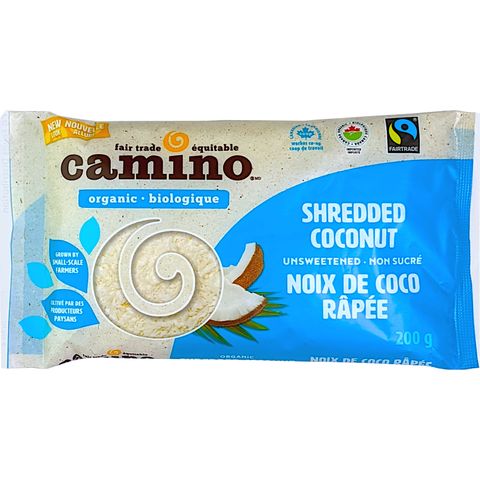 Camino Organic Unsweetened Shredded Coconut
Why We Love Camino Organic Unsweetenened Shredded Coconut:
It's unsweetened and unadulterated for pure, simple enjoyment. With no preservatives, sulphites, added sugars or sweeteners, this shredded coconut has a unique, exotic flavour that alludes to its tropical origins.
What Makes Camino Organic Unsweetenened Shredded Coconut Different:
Camino's ingredients are sourced from small-scale family farmers, either directly or in partnership with worker co-operatives that ensure transparency and fairness in the supply chain. The Organic coconuts used to make this product are sourced from Sri Lanka, in partnership with the Small Organic Farmers Association (SOFA). Your customers will not only love the taste and quality of this product, but can also feel good about making a socially and environmentally conscious purchase!
Product Description:
Great for adding to smoothies, cereal & oatmeal, homemade granola, salad toppers, baked goods, and more. A source of healthy saturated fats, fibre, and essential nutrients.
Certified Organic (QAI, Canada Organic)
Fairtrade Certified
Sourced from Small-Scale Farmers
Gluten-Free
Unsweetened
No Preservatives or Additives
Ingredients
Coconut*.
*Certified Organic.
Allergy information: Manufactured and packaged in a gluten-free and priority allergen-free facility.