Home

/

Wild Tusker Organic Coconut Flour (Foodservice Size)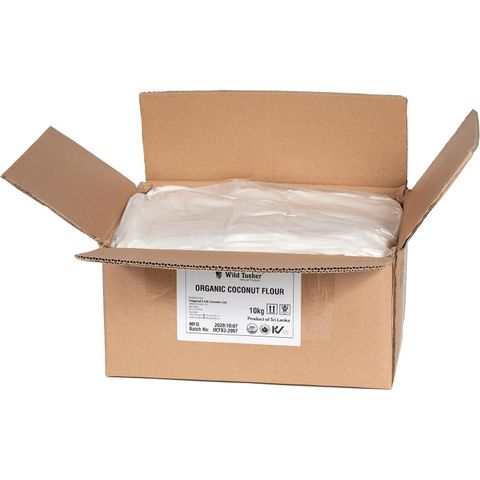 Wild Tusker Organic Coconut Flour (Foodservice Size)
Notice: Before ordering foodservice products, please read our Shipping and Returns Policy.
*Please note that our bulk items are exempted from any of our regular promotional programs.
Why we love Wild Tusker Organic Coconut Flour
This is a versatile substitute for other flours that can be used in baking and cooking. It is made from 100% certified organic defatted coconut meat, which is leftover from the process of organic coconut oil extraction. Coconut flour is gluten-free and an excellent source of dietary fibre.
Use up to 20% in standard recipes to boost the fibre content or use 100% in specially formulated recipes. Try out some of the recipes below with this functional foodservice product:
What makes Wild Tusker Organic Coconut Flour different
A portion of each sale of Wild Tusker brand products goes towards the Pinnawala Elephant Orphanage in Sri Lanka to lend a helping hand in saving this endangered species. The quality processing of this product is also what makes it different; made with organic and all-natural ingredients, Wild Tusker's objective is to offer the healthiest selection of food products to customers in the most environmentally conscious and socially responsible manner.
Wild Tusker Organic Coconut Flour product description
Wild Tusker Organic Coconut Flour is a fine creamy white powder with a slightly nutty odour. It has a mild taste with less coconut flavour due to the reduced fat content.
Canadian company (product imported from Sri Lanka)
Gluten-free
Certified Canada and USDA Organic
Kosher Check certified
Non-GMO Project Verified
Vegan
Ingredient: Organic coconut flour.