Home

/

Blowholes Standard Size Paper Straws (Wrapped)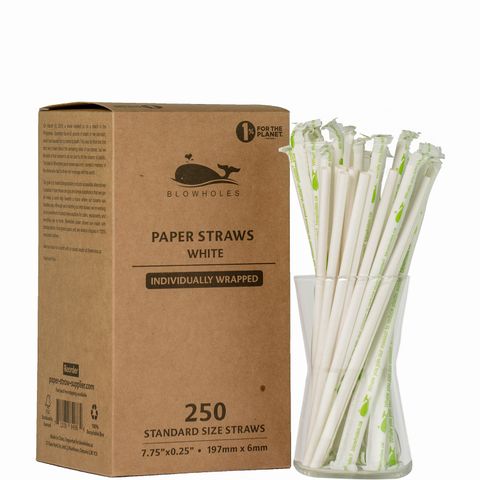 Blowholes Standard Size Paper Straws (Wrapped)
Why we love Blowholes Paper Straws
Finally, a straw that's durable, affordable, 100% biodegradable, and fun! Blowholes paper straws are great for your retail shelf and are an excellent addition to your cafe or juice bar.
What makes Blowholes Paper Straws different
Not all paper straws are created equal. Blowholes paper straws are extremely durable, tested to last for hours in various hot and cold beverages, including coffee-based drinks, juices, sodas, and cocktails. Blowholes offers straws in several varieties, including two that are unlike any others:
True Kraft straws are made of 100% unbleached paper, inside and out. Other brands use white paper to line the insides of their "kraft" straws.
Blowholes Originals straws are printed with various whale-related puns - a different joke on each straw. The jokes are so bad that they're sure to get kids and groan-ups alike talking.
Blowholes Paper Straws product description
Blowholes was created with the mission of reducing the amount of overall plastic waste that gets put into our oceans. Substituting paper straws in place of plastic ones is a conversation-starter for an important cause.
These come in a box of 250 straws, each straw individually wrapped.
Size: 197x6mm (7.75"x0.25")
FDA approved food grade materials
100% biodegradable and compostable
100% recyclable kraft paper boxes with no plastic
Made from sustainably sourced paper