Home

/

Healthy Hippo Low Sugar Candies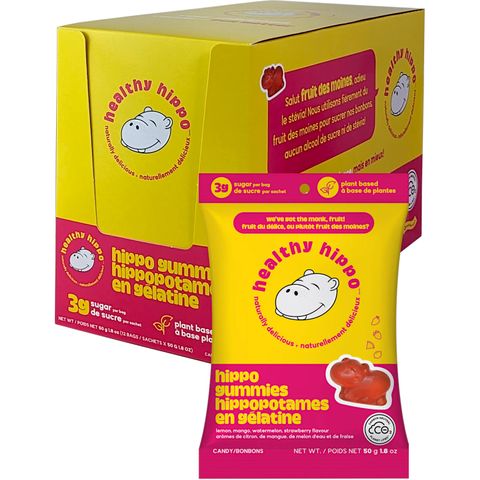 Healthy Hippo Low Sugar Candies
Why We Love Healthy Hippo:
Healthy Hippo Low Sugar Gummies give you the nostalgia of your favourite childhood candies with better for you ingredients. Reformulated for more intense flavours, their original Hippo Gummies and Sour Hippo Gummies will knock your socks off! With flavours of lemon, strawberry, mango and watermelon, these are a candy everyone is sure to love. Unlike other sugar-free gummies, Healthy Hippo gummies are also formulated to have soft and chewy textures that won't stick to your teeth.
What Makes Healthy Hippo Different:
Healthy Hippo Gummies are 100% plant-based and sweetened solely with monk fruit juice concentrate – no stevia or sugar alcohols. They use the highest quality ingredients and have increased transparency by attaining the highly coveted Non-GMO Project Verified status as well as the first gummy in North America to receive a Carbon Neutral Certification. They have partnered with Planet Fwd to reduce and offset their carbon emissions, and have worked to implement other sustainability initiatives throughout their supply chain.
Healthy Hippo is better for you, better for your kids, and better for the environment!
Healthy Hippo Product Description:
Healthy Hippo gummies are Canada's ONLY low sugar, plant-based confectionaries sweetened with Monk Fruit Juice Concentrate. Made with high quality, non-GMO ingredients and all natural flavours and colours derived from fruits and vegetables, the result is truly superior-tasting products!
100% Plant-based
Low Sugar (<3g per serving)
Balanced Fibre (13g per serving)
Non-GMO Project Verified
Carbon Neutral Certified
Made in Delta, British Columbia