Home

/

Appel Foods Nut Crumbs Breadcrumb Replacements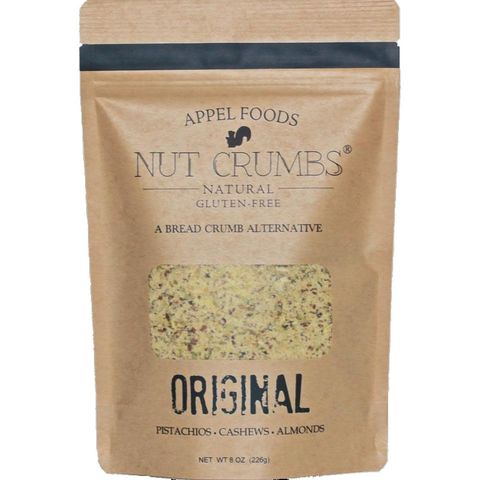 Appel Foods Nut Crumbs Breadcrumb Replacements
Why We Love Nut Crumbs:
Nut Crumbs are the first bread crumb alternative on the market that are keto, paleo, vegan, gluten-free, and delicious! They are made of premium nuts and spices and can replace breadcrumbs in all your favorite recipes.
What Makes Nut Crumbs Different:
Nut Crumbs infuse flavour and texture into all your favourite dishes, without the guilt! You can maintain your healthy lifestyle while still "breading" your food with a low carb, healthy, nut-based bread crumb alternative.
Nut Crumbs Description:
Gluten-Free

Keto Friendly

Paleo

Vegan

All Natural
Ingredients
Original: Pistachios, almonds, cashews, kosher salt, black pepper.
Italian: Cashews, pecans, almonds, kosher salt, garlic powder, basil, parsley, black pepper.
Everything: Almonds, cashews, pistachios, seasoning (sesame seeds, dried onion, dried garlic, salt, poppy seeds), salt.
BBQ: Almonds, cashews, pecans, BBQ seasoning (paprika, salt, onion and garlic powder tomato, spices, yeast extract citric acid, extractives of paprika, natural flavors), salt.
Allergy Information: Contains tree nuts, almond, cashew, pistachio.