Home

/

Otto's Grain-Free and Organic Baking Mixes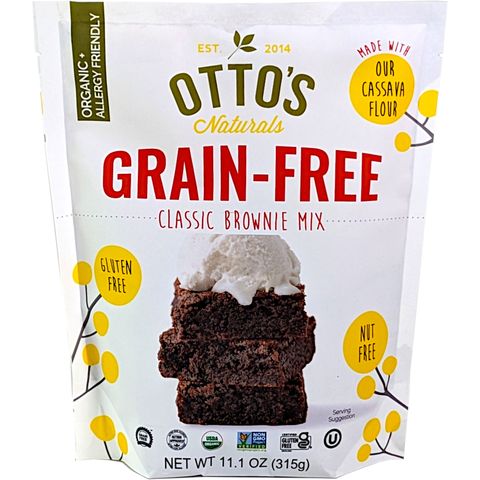 Otto's Grain-Free and Organic Baking Mixes
Why We Love Otto's Natural Baking Mixes:
Otto's Naturals' grain-free bake mixes are super fun, choose-your-own-adventure mixes! Each of these mixes have endless flavour possibilities, depending on what additional ingredients you add to the Top-9-Allergen-Free base mixes.
Otto's just provides the delicious, dairy-free, egg-free, vegan base, and customers can choose whether to use traditional wet ingredients, or plant-based alternatives. They can also create countless different recipes by choosing different add-ins! Create classics, like chocolate chip, white chocolate macadamia, snickerdoodle, or peanut butter cookies, or throw whatever they've got in their pantry to make Kitchen Sink cookies (think pretzel bits and chocolate gems)!
What Makes Otto's Natural Baking Mixes Different:
Otto's Naturals uses premium sourced, quality ingredients that result in unmatched flavour profiles. Their team is also dedicated to allergen safety, ensuring zero cross contamination from shared equipment, and even hand-packing some of their products to ensure consumers can safely enjoy any and all of their products!
Otto's Natural Baking Mixes Product Description:
Otto's Naturals Ultimate Cookie mix is a customizable Brown Sugar Cookie dry mix made with Otto's organic cassava flour, organic brown sugar and organic cane sugar.
The Classic Brownie Mix is another customizable dry mix, based on a traditional brownie recipe made grain-free with organic cassava flour. Sweetened with organic cane sugar and incredibly satisfying due to a unique combination of both natural and Dutch-processed cocoa powders!
The Paleo Brownie Mix offers customers an alternative way to enjoy sweet, fudgy brownies without traditional cane sugar, since it's made with organic maple sugar and organic coconut sugar. With the delightful lingering flavours from these two natural sugar alternatives, one doesn't have to follow a Paleo diet to enjoy!
Gluten-Free
Grain-Free
Nut-Free
Certified Organic
Non-GMO Project Verified
Autism Hope Alliance Endorsed
Plant-Based/Flexible